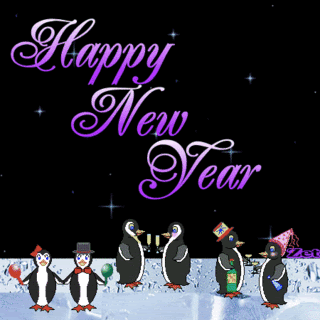 I
would like to wish you all a
Happy New Year 09
and may all your dreams and wishes come true!!
I'm pleased to say it's been a quite festive time here but with lots of good food and basically enjoying being with the family. The family are now over their bouts of flu and I wave good bye to the back of that little episode thankfully. I hope now to get back to normal baking up some tasty treats for you this year. To kick start this year off here I am presenting you with a bake from Sweet and Simple Bakes.
For our December bake at
Sweet and Simple Bakes
it was chosen by a poll vote and we had a sensational amount of
67 votes cast in our poll!!
The clear winner was Nigella's Christmas Morning Muffins.
These muffins are a quick and easy bake for a Christmas morning breakfast (or any breakfast come to that); with glorious aromas of spices and flavours emitting through the air as they bake. They are perfect for a light breakfast either served plain or broken open smeared with butter and marmalade. This recipe is sourced and adapted from
Nigella Christmas cookbook
. A very beautiful book by, The Domestic Goddess's herself and it's defiantly is worth purchasing for all the magnificent festive recipes inside.
Christmas Morning Muffins

~ adapted from
Nigella Christmas Book

Makes 12Ingredients

250g (9 oz) plain (all-purpose) flour
2½ tsp baking powder
½ tsp bicarbonate of soda
100g (4 oz) caster (super fine) sugar
1 tsp ground cinnamon
Good grating of fresh nutmeg (or ¼ tsp ground nutmeg)
2 Clementine's or Satsuma's
*see notes*

Approx 125ml (4 fl oz) full-fat milk
75g 3 oz) vegetable oil (or melted butter, left to cool slightly)
1 egg
175g (6 oz) dried cranberries
For The Topping
3 tsp Demerara sugar
*see notes*
Method
Preheat the oven to 200°C/fan oven 180°C/400°F/Gas mark 6. Line a 12-bun muffin tin with muffin paper cases.
Measure the flour, baking powder, bicarbonate of soda, caster sugar, cinnamon and nutmeg into a large bowl; grate the zest of the Clementine's/Satsuma's over and combine.
Squeeze the juice of the Clementine's/Satsuma's into a measuring jug, and pour in the milk until it comes up to the 200ml (7 fl oz) mark.
Add the oil (or slightly cooled, melted butter) and egg, and lightly beat until just combined.
Pour this liquid mixture into the bowl of dried ingredients and stir until everything is more or less combined, remembering that a well-beaten mixture makes for heavy muffins; a lumpy batter is a good here.
Fold in the cranberries, then spoon the batter into the muffin cases and sprinkle the Demerara sugar on top.
Bake in the oven for 20 minutes until golden brown and a skewer inserted into the centre comes out clean. The muffins are ready to eat now either plain or broken up and smeared with butter and marmalade.
* Notes**
Cranberries could also be replaced with another dried fruit of choice
*

* Clementine's/Satsuma's*
If you're unable to source Clementine's or Satsuma's, 1 orange of zest and juice would be adequate.

* Demerara Sugar is*: Large crystals, golden in colour, which also adds a crunch to baked goods.

*Question*: I can't purchase Demerara sugar - what could I use instead?

Granulated Sugar: This is a pure, naturally white, crystalline sugar.

Sugar Cubes: Brown/white, would be a lovely addition instead of Demerara sugar; crunched up and sprinkled over the top of each muffin before baking.